About Calvary Bible Church
Welcome to Calvary Bible Church!
The Calvary Bible Church is an Independent Bible Church located on Route 6 in Westport, Massachusetts. Established in 1896, we have a rich heritage of being a lighthouse of God's Word in this community. We pray that our ministry, both through this site and in our assembly, will touch your heart by better acquainting you with our Lord and Savior Jesus Christ.
We desire to glorify God by:
Preaching and teaching God's Word, accurately, faithfully, completely and unapologetically (II Tim 3:16-17, 4:12)
Spreading the gospel to all the world by evangelistic preaching and teaching in our services (Acts 5:42), training for and engaging in personal evangelism (Rom 10:15), and an emphasis on worldwide missions endeavors (Luke 24:47)
Equipping believers by the ministry of God's Word to serve the Lord (Eph 4:12)
Providing opportunities for people to be involved in ministry endeavors (I Cor 12)
Encouraging close, loving and vibrant relationships of unity and accountability among believers of the local church (Acts 2:42; Rom 12:15, 15:14; Gal 6:1-5; I John 4:21)
Strengthening individuals and families to practice faith in daily living (James 1:22-25)
Statement of Faith
The Word of God
The Bible as originally given is verbally and plenarily inspired, and the product of Spirit-controlled men, and therefore is absolute truth. God's Word has been preserved (Psalm 12:6-7) so that we can have confident assurance that we have the Word of God. It is inerrant, complete (II Peter 1:3), and absolute authority. It is to be the center of true Christian unity, and the supreme standard to which all human conduct, creeds, and opinions should be tried (II Timothy 3:16-17, II Peter 1:19-21; I Corinthians 2:10-13).
God
God is three Persons, All equal One to the Others, and existing in one being (Matthew 28:19; Deuteronomy 6:4). These three Persons are the Father, the Son, and the Holy Spirit (II Corinthians 13:14). God created the universe by direct action (Genesis 1:1-2:5). He is eternal, sovereign, holy, just, immutable, omniscient, omnipotent, true, merciful, and loving. Because of all of this He is worthy of all honor and worship (I Corinthians 8:6; Revelation 4: 11).
The Father
He is the Father over all creation (Acts 17:29), of the nation of Israel (Exodus 4:22), of the Lord Jesus Christ (Matthew 3:17), and of the believers (Galatians 3:26).
The Son
Jesus Christ came to earth God incarnate (John 1:1-14; Colossians 1:15). He came through a virgin birth (Matthew 1:16-25). His purpose in coming to earth was to die for the sins of mankind (Matthew 16:21). Through this death, He is the Savior of all those who place their trust in Him (John 3:16). He is the Head of the church, which is His body (Ephesians 5:23, 30; 4:12).
The Holy Spirit
The Holy Spirit magnifies Christ (John 16:7-15). He convicts men of sin and draws them to Christ. He inspired the writers of Scripture (II Peter 1:20-21). He fills (Ephesians 5:18), indwells (I Corinthians 6:19), guides (Romans 8:14), assures (Romans 8:16), and prays for believers (Rom. 8:26).
Man
Man was created in innocence under the law of his Maker, but by voluntary transgression, Adam fell from his sinless and happy state, and all men sinned in him, in consequence of which all men are totally depraved, are partakers of Adam's fallen nature and conduct; and therefore, are under a just condemnation without defense or excuse (Genesis 3:1-6, 24; Romans 3:10-19, 5:12, 19).
Satan
Satan is a created being. God created him as an angel. He was "the anointed cherub that covereth." (Ezekiel 28:14-19). He is described as being very beautiful. He fell because of his pride. He aspired to overthrow the rulership of God (Isaiah 14:12-15). He is the originator of sin, through his temptation, man's sin came about (Genesis 3). He and his followers were banished from heaven (II Peter 2:4; Jude 6). His end is sure. He will be cast into the abyss for a thousand years, and then he will be cast into the lake of fire (Revelation 20:1-3, 10).
Salvation
Salvation is divinely initiated and wholly of grace through faith (Ephesians 2:8-9). This faith involves a turning away from sin and to trust in Christ (Luke 24:47). The natural response of a person who has been truly saved is public confession of Christ (Matthew 10:32-33). This salvation will result in a life of good works (I John 3:24). God gives the believer assurance of his salvation (I John 5:12-13). The believer does not need to live a life of fear of having his salvation revoked, for he is secure in Christ (II Timothy 1:7). All those that have trusted Christ's death as the payment for their sin, not relying upon their own work or merit in any way, are forgiven of sin, secured a home in heaven, and are eternally secure in the salvation that God has given them (Romans10:9; John 10:28). To reject salvation is to embrace a literal hell (Revelation 20:11-15). Salvation is both initiated by God's calling and received by man's choice.
The Church
The Bible speaks of both the universal and the local church (Colossians 1:18; I Corinthians 1:2).
The universal church is the body of all believers in this age. This universal church has not replaced Israel as God's chosen people, but must be understood as distinct. The present Church Age will be culminated when Jesus Christ returns to deliver His own from the wrath of God in the end times (I Thessalonians 4:13-18; II Peter 3:9). After that return (the Rapture of the Church), He will later return again to establish His literal millennial kingdom in Israel (Revelation 20:4-6).
The local church is a group of believers organized for the purpose of glorifying God by edification (the building up of believers- Ephesians 4:11-16) and evangelism (Acts 1:8). The church must be sure to remain absolutely pure from apostasy and any form of compromise (II John 9-10).
Meet the Pastor
Pastor Jared Heatherly graduated from Bob Jones University (Greenville, SC) with a Bachelor of Arts degree in Pastoral Studies in 1993, and a Master of Arts degree in Bible in 1995. He and his wife, Julie, were married in August of 1995.
After serving at the Fellowship Christian Academy (Methuen, MA) as a teacher for two years, he was led by the Lord to start the New England Bible Church in Swansea, MA. Pastor Heatherly served there for 9 years, working full time outside of the church for his financial support. During this time, the Lord blessed the Heatherlys with a core of faithful believers in the church, and with a daughter, Trisha, who was born in 1998. In 2006, Calvary Bible Church extended the invitation to Pastor Heatherly to assume the role of senior pastor. After much prayer, he accepted the invitation. The people from the New England Bible Church joined with us here at Calvary as well.
A Message from Pastor Heatherly
It is my goal as the pastor of Calvary Bible Church to cultivate in the hearts of every person here a yearning to know God intimately by the teaching and preaching of His Word (Philippians 3:10). This, first of all, comes by knowing the Lord Jesus Christ as your personal Savior. Man must come to the place where he realizes that he cannot please God on his own, but instead is ready to repent of his sin, and put his faith solely in the sacrifice of the Lord Jesus upon the cross (Titus 3:5-7). This is the starting point of new life! After this point there is still much that is needed. Christian maturity cannot be reached simply by attending church. We must be faithfully reading, studying, memorizing, and meditating on God's Word daily (Joshua 1:8). We must also be careful not to neglect committing daily time to prayer (Philippians 4:6). These expressions of obedient dependence upon the Lord will give us the spiritual strength to be able to reach out to others with the timeless message of God's Word.
It is my prayer that the Calvary Bible Church be a beacon of the gospel and a tool in the hand of God to build up believers and win the lost. We must faithfully glorify the Lord by pointing people to Jesus, who is "the way, the truth, and the life." (John 14:6) "But God forbid that I should glory, save in the cross of our Lord Jesus Christ…" Galatians 6:14)
History of Calvary Bible Church
The Calvary Bible Church had its beginning in 1896. Mr. Nelson Reed of Fall River organized cottage prayer meetings and a regular Sunday School. A year later, a full-time Pastor, Rev. Byron Reese, was called to serve the church. Regular meetings were held in the village hall.
The church continued to grow and in 1898, under the leadership of Rev. H.F. Reynolds, the members aspired to build a church.
In 1899, the first steps were taken towards building. The land on Union Avenue, where the first church stands, was donated by Mr. Frank Whalon. Like a community effort, all the members, including workers from the Westport Manufacturing Co., put forth their energies and helped build the edifice. On February 17, 1900, the church was formally dedicated. It was a family affair and the church was packed.
Three years later the parsonage was erected and the total cost of both church and parsonage was $15,000. The church was originally named the Union Gospel Church. In 1919 it came to be known as the Union Church of Westport Factory, under the pastorate of Rev. Alfred Ward.
Although from its inception, the church's desire was to stay clear of all creeds, the Bible was to be their infallible rule of faith and practice. In the years during the era of World War I, the church was of the "Holiness" type. However, in the 1920's and up to the mid 1930's, the church followed a very liberal position and the pure gospel was no longer preached.
The turning point came in 1937 when Rev. Claude Curtis became Pastor. He had become saved while a U.S. Marine stationed in China and was very enthusiastic and zealous in his ministry. Since that time, God has blessed with some outstanding pastors.
Following Rev. Curtis were:
Rev. Arnold Vail- 1939
Rev. Harold Dame- 1943
Rev. Lawrence Grow- 1952
Rev. William Reed- 1961
Rev. Dean Bonsall- 1971
Rev. Gregory Gifford- 1993
Rev. Richard Gilbaugh- 1996
Rev. Jared Heatherly- 2006
The church has also been blessed by the ministries of assistant pastor Chris Dyer, who served as interim pastor from 1992-1993, and assistant pastor Marc Loranger, who served as interim pastor from 2005-2006.
During Pastor Grow's ministry, the name of the church was changed to Calvary Bible Church to more clearly define the doctrines and beliefs of the church body. It has, since that time, followed the "baptist" doctrines and church polity, holding to a congregational, autonomous form of church government.
In 1972, a new building was erected at 1100 State Rd., affording a larger capacity and much better access along Route 6. In 1990, Bonsall Hall was built as an adjoining structure, to be an athletic and all-purpose building.
Even a brief history would not be complete without mentioning the hundreds, even thousands, of people who have been touched by the gospel of Jesus Christ; and of some who have heeded the call into full-time Christian service. Surely our Lord has blessed.
"But our sufficiency is of God." II Corinthians 3:5
"And the grace of our Lord was exceedingly abundant with faith and love which is in Christ Jesus." I Timothy 1:14
Our Missionaries
Matthew and Michelle Conrad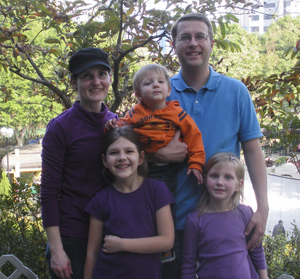 The Conrads are missionaries to Hong Kong, China with Biblical Ministries Worldwide. While most of China is closed to church planting missions, Hong Kong is open. The Conrads have freedom to openly preach the Word of God to people of all ages in this great city. Their goal is to plant reproducing churches through evangelism, discipleship, and leadership training.
The Conrad family spent January through May of 2009 in Hong Kong filling in for coworkers on furlough and have been in Hong Kong for their first full term since September of 2011. Since arrival, they have served at Faith Baptist Church in Tuen Mun with their coworkers, and Matthew has served as the interim preacher for all services. They will begin intensive language study of Cantonese early in 2012. While in language school, the Conrads will continue to assist in ongoing church planting efforts: preaching, discipling, coordinating outreaches, enhancing the music ministry, and teaching in the Bible institute. When language school is complete, the Conrads hope to being planting new churches in the New Territories of Hong Kong.
Read updates on their blog here.
Dan & Karyn Hassman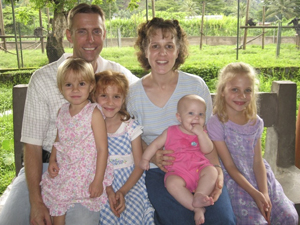 The Hassmans are in Johannesburg, South Africa, serving under Baptist World Mission. After French language school the Hassmans worked as church-planting missionaries in Cotonou, Benin from 2005-2007. When their co-workers left the field God opened the door for them to work under experienced missionaries in Cameroon. They served in Douala from 2008-2012 teaching Bible institute classes and joining with a national pastor to plant a church in Douala. They are beginning a new work in Johannesburg with the goal of planting churches among the francophone Congolese community. The focus is on reproducible discipleship and leadership development.
Dan is a former commercial pilot who God led into the ministry in his late 20's. Karyn received her nursing degree with the goal of using it on the mission field. She was on deputation to go to the mission field as a single missionary when God led them together and they were married in 2002. Dan and Karyn are blessed with four daughters: Kristianne, Alissa, Elianna, and Annalisse.
Ken Meyers
G.S. & Sarah Nair
G.S. Nair was saved in a Baptist mid-missions hospital in 1972. He entered Berean Baptist College, an independent Baptist college in Bangalore, India. He and 26 of his classmates started a prayer meeting in the college in 1974. Later, G.S. and 3 other students with only $5 and the leadership of the Holy Spirit went out to hold street meetings, give testimonies, hand out tracts, conduct Bible studies, do personal work.
The burden of seeing millions going to hell and the compassion of our Savior motivated them to forsake all and give their lives for the cause of Christ.
In 1977 Dr. G.S. Nair graduated from Berean Baptist College, an independent Baptist college in Bangalore, India. In 1980, as a ministry of his own local church, he began the Peoples Baptist Bible College and Seminary (PBBC&S) in order to train nationals to establish local Baptist churches throughout India and beyond. Presently the college students have established 906 independent Baptist churches with a total membership of over 100,000.
The College's threefold mission is to:
Win souls to Christ
Establish local churches
Disciple the new converts for further evangelism.
Sadly, every year the college turns away committed, potential students because we lack the funds needed to house and train them.
Over the past 31 years, over 1,300 churches consisting of over 150,000 members have been established. They're located in extremely poor rural villages as well as in cities with over 10 million people. India's population is over a billion — 78% Hindu, 16% Muslim and less than 1% professing Christians. In 1978 India closed its borders to foreign missionaries, so India can only be reached by natives.
People's Baptist Ministries in India Society is the Mission Board of People's Baptist Church - an independent, fundamental, Baptist Church located in Trivandrum, India. G.S. Nair (pastor of Peoples Baptist Church) is president of the Society and director of the 7 member board. The mission board in the United States is Fundamental Baptist Mission to India.
Learn more about G.S. Nair and his ministry here.
Stan & Grace Shelton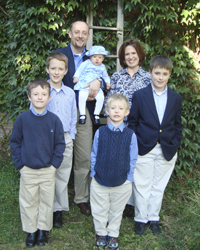 "We have been in Vienna since 2001 and are currently leading the church planting effort in the 22nd district of the city. Our ministry involves holding worship services on Sundays, Bible study and children's programs during the week, and reaching out to friends and neighbors in a variety of ways. The ministry of hospitality, helping with English learning, participating in our children's schooling are some of the ways we seek to be a blessing to our community and open doors for the gospel. We are also involved in camp ministries in the summer with teens and children. We have also conducted book tables, literature distribution and evangelistic services."
Wilson and Jackie Wahl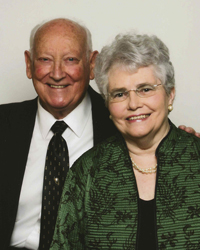 "In 1991, after having pastored for over forty years, the Lord led us to begin a new ministry, that of helping churches in their search for a pastor. It was our privilege in 1996 to come to Westport as your interim to assist in your search. You were our seventeenth church of the forty we have helped. This ministry has taken us to eleven states, three Canadian Provinces and England. Our home base is in Hendersonville, NC.
"Recently health issues have hindered us from accepting opportunities to assist churches as a resident interim pastor. However, there are at least six able men who are continuing to do what was begun in 1991. These men are using the material I developed and are being very effectively used of the Lord. One recently completed an assignment in California, another is serving in North Carolina, one is in Florida and one in Michigan. I am encouraging these men and corresponding with other churches in need, seeking to help them find good men to pastor their congregations."